Introduction
The Proton Products NEXiSTM CS5G Series of production line controllers are for use on wire insulation or other extrusion production lines.
NEXiSTM CS5G Systems consist of a NEXiSTM CS5G touch screen PC connected to either a NEXiSTM CS1000-S (single extruder or capstan drive) or NEXiSTM CS1000-T (double extruder) controller. The NEXiSTM CS5G functions as a sophisticated user interface for configuring and monitoring the NEXiSTM CS1000 controller.
NEXiSTM CS1000 controllers connect to Proton Products diameter gauges and speed and length gauges for measurement of insulation diameter and line speed respectively. These measurements are then fed into a PI feedback controller whose fully-isolated and floating output may be used to drive insulation extruders or capstan drives.
Insulation diameter is thus actively controlled and kept within tolerance by the NEXiSTM CS1000 controller.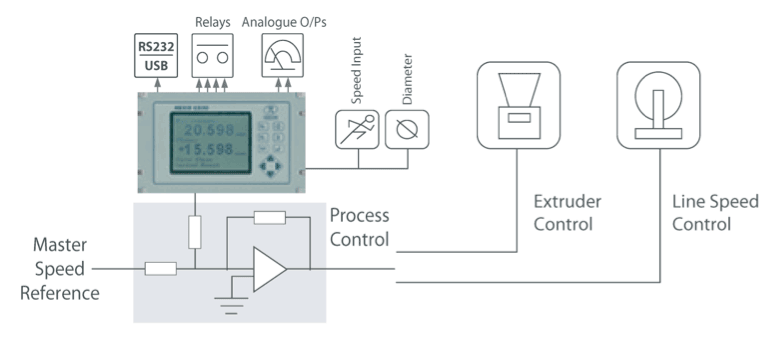 Specifications
NEXiSTM CS5G touch screen PC
| | |
| --- | --- |
| Screen | 17-inch colour graphical touch screen display |
NEXiSTM CS1000-S controller
(NEXiSTM CS1000-T controllers duplicate all functions below for a total of 6× DG Series gauges and 2× PI Controller outputs).
Serial communications
RS232
USB
CANbus - (for connection to up to 3× DG Series gauges)
Line speed inputs
Analogue
Two inputs available for 0 to 10V and 0 to 50V analogue line speed signals; end-user configurable scaling
Pulse
Two inputs available for 0 to 3V and 0 to 10V pulsed line speed signals; maximum frequency 250 kHz; end-user configurable scaling
4×Relay contact outputs
Function (end-user configurable)
Gauge OK
SSFD lump or neck flaw detected
X or Y upper tolerance exceeded
X or Y lower tolerance exceeded
X upper tolerance exceeded
X lower tolerance exceeded
Y upper tolerance exceeded
Y lower tolerance exceeded
Electrical
Maximum voltage
50VDC / 30VAC
Maximum current
500mA
On resistance (@ 100mA)
< 0.1Ω
Off resistance
> 10 MΩ
Analogue output 1
Function (end-user configurable)
ØX
ØXY
Electrical
Output voltage range
0V to +10V
Maximum output current
2mA
Resolution
16-bit
Output voltage scaling is end-user configurable
Analogue output 2
Function (end-user configurable)
ØY
Average Error
Electrical
Output voltage range
ØY: 0V to +10V
Average Error: -10V to +10V
Maximum output current
2mA
Resolution
16-bit
Output voltage scaling is end-user configurable
Control algorithm
Advanced Control Algorithm (ACA)
SPC
Graphical histogram
Cp
Cpk
SPC control
Statistical Process Control: minimize insulation material consumption whilst maintaining in tolerance insulation diameter
FFT
Fast Fourier Transform: displays amplitude versus frequency of periodic diameter variations
SSFD
Single Scan Flaw Detection: detection of lump and neck flaws
Presets
Nominal diameter
+Tolerance
-Tolerance
+Flaw (Lump)
-Flaw (Neck)
Product recipes
50 sets of product presets may be stored in memory for rapid recall
Statistics
Mean diameter
Standard deviation (sigma)
Maximum diameter
Minimum diameter
| Specification | Minimum | Typical | Maximum | Units |
| --- | --- | --- | --- | --- |
| Power supply voltage (rms) | 84 | | 264 | VAC |
| Power supply frequency | 47 | | 440 | Hz |
| Power supply current (rms) | | | 1 | A |
| Power consumption | | | 35 | W |
| Ambient temperature | 5 | | 45 | °C |
| | 41 | | 113 | °F |
| Relative humidity @ 38°C / 105°F | | | 90 | % |
| Ingress Protection (IP) rating | | | IP50 | - |
| PI Controller output voltage | -10 | | 10 | V |
| PI Controller output current | | | 10 | mA |
| PI Controller output resistance | | | 10 | Ω |
| PI Controller resolution | | | 12 | bit |