Operating principle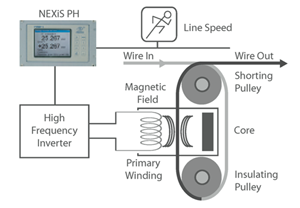 The preheater is built around a large transformer and a pair of freely rotating pulleys.
The wire is looped around the two pulleys and through the core of the transformer. The wire entry/exit pulley is electrically conducting and thus short-circuits the wire loop to form a single secondary turn for the transformer. Electrical power delivered to the transformer primary is transformed in to a large induced current in the wire which causes rapid and concentrated heating of the wire.
Technology
The shorting pulley rim is manufactured from a special copper alloy that has high electrical conductivity and good wear resistance.
The insulating pulley is manufactured from resin bonded fabric which has good wear resistance and low thermal conductivity to minimise wire-to-pulley heat loss.
The pulleys are mounted on low friction, double row ball bearings to minimise the drag force (tension increase) on the wire as it passes through the preheater. Both pulleys are precision machined to ensure that uniform tension is applied to the wire, thus reducing SRL problems in data and telecommunications cable applications.
The preheater is powered from a 3-phase mains supply which is rectified to provide a DC supply. An IGBT-based high frequency inverter circuit converts this DC supply in to a single phase, pulse width modulated (PWM) square wave to drive the transformer primary. The inverter output frequency is automatically adjusted according to the wire size to deliver all the available power to the wire for maximum temperature at high line speeds.
Line inductors are fitted to improve the power factor and wave shape of the current drawn from the mains supply and also minimise the effect of phase imbalances. The preheater is fully protected against mains supply phase loss or brownouts.
Options
(must be specified for installation at time of manufacture; cannot be retrofitted)
| | |
| --- | --- |
| Wire loop current output | 0 to +10 V output proportional to 0 to 2000A(rms) wire loop current |
| Communications interfaces | PROFIBUS |
| Solendoid door lock | Locks the access door(s) shut until motion of the pulleys has come to a complete stop. |
| Height plinth | Raises the nominal line height to 43" (1092mm). |
| Twin doors | For use in confined factory spaces where the standard single door is too large (not applicable to PH160, PH450 or PH600) |