Introduction
Proton Products InteliSENSTM LN series 2-axis and 3-axis lump and neck detectors provide outstanding product quality supervision.
The InteliSENSTM LN Series uses LED light sources, high-speed digital signal processing (DSP) and specialized optical design technology to inspect, alarm and report Surface Quality Defects (SQD) as they happen, reducing customer complaints and improving your reputation as a quality product supplier.

The LED Constant Light Sources illuminate the circumference of the product and any change in the surface profi­le is immediately detected by a photodiode optical receiver which reports the height, length and location of lump and neck flaws along and around the product.
Extremely easy to install, integrate and operate, InteliSENSTM LN series lump and neck detectors may be used as a standalone device or integrated with production line PLCs.
Optional audio/visual alarm units, fault ticket printers and data logging PC software are available to compliment any InteliSENSTM LN series model to close the loop on Quality Control.
Applications include production processes such as wire drawing, braiding, cable insulation and jacketing, rewinding and coiling, rubber and plastic extrusion processes for hose, tube and pipe production.
Operating principle
Proton Products InteliSENSTM LN series lump and neck detectors use LED light sources to illuminate the circumference of the cable under inspection. Light that is not obscured by the cable is focused onto a high-speed photo-detector. A custom FPGA-processor detects and logs any sudden changes in the detected light caused by lump or neck flaws in the cable insulation. This signal processing is performed 100,000 times a second to ensure that even the smallest flaws are detected at the highest line speeds.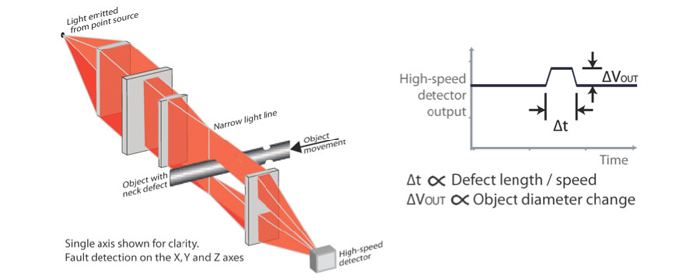 Proton Products InteliSENSTM LN series lump and neck detectors are available in 2 and 3-axis models (InteliSENSTM LN2030 and LN3030 respectively). Whilst the 2-axis LN2030 model is suitable for budget or non-critical applications, the 3-axis LN3030 model offers a greatly improved detection probability for even the smallest flaws.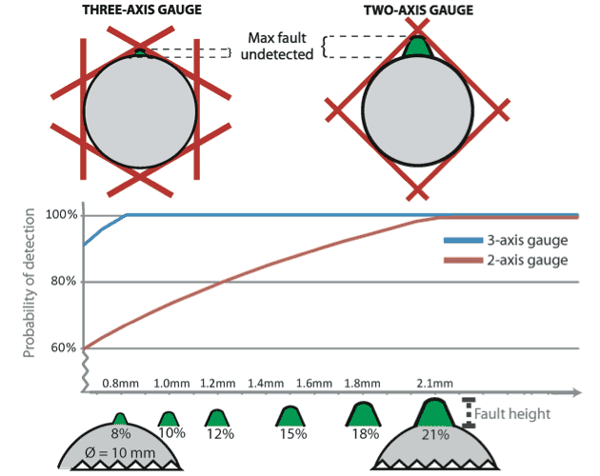 Optional Interfaces
Must be specified for installation at time of manufacture, cannot be retrofitted.
| | |
| --- | --- |
| 4x Analogue outputs | X, Y, Z axis voltage output; user scalable to ±10Vdc |
| Analogue input (user configurable) | Line speed or flaw height setting; user scalable to 0~10Vdc |
| Wireless | Bluetooth (not available in units destined for European markets) |
| Communications | Choice of any one of: PROFIBUS; EtherNet/IP or DeviceNET |